Lion King Simulator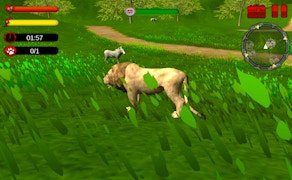 Lion King Simulator
Immerse yourself in the captivating and heart-pounding world of Lion King Simulator, a unique fusion of animal games, hunting games, battle games, and simulator games. This action-packed RPG offers a thrilling exploration of the wild jungle from the perspective of a powerful Lion, adding an unparalleled level of intensity and excitement to your gaming experience.
Experience the raw power and magnificence of being the king of beasts in this pulse-quickening game. The Lion King Simulator translates the adrenaline-filled chase, the ruthless hunting, and the fight for survival into an exhilarating gaming experience that will leave your heart pounding. If you are a fan of high-octane animal games or hunting games, this is one showdown you wouldn't want to miss.
The stunning visuals alone are enough to draw any action lover into this riveting world of predator versus prey. The breathtakingly detailed environments bring the wild jungle to life right on your screen, pulling you in with its realism. The conjunction of intense gameplay and vibrant graphics is what sets Lion King Simulator apart from most simulator games.
Taking on the role of an Angry Lion running in the jungle isn't just about hunting its prey down; it's about showcasing your skills in stalking, strategy, patience, timing, and rapid decision making. Each aspect has been intricately crafted to ensure that players can truly reins supreme as they delve into ultimate 3D simulation.
If you're looking for a game that artfully combines action with strategy while placing you right at the heart of wilderness, then look no further than Lion King Simulator. Unleash your inner beast today!
What are the best online games?