Last Knight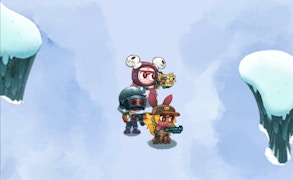 Last Knight
Injecting an electrifying blend of zombie games, gun games, and survival games, Last Knight stakes its claim as a captivating entry into the action genre. As the last knight standing between the world's annihilation and salvation, you embark on a perilous mission filled with adrenaline-pumping challenges and high-stakes battles.
A thrilling ride from start to finish, Last Knight deftly merges elements of zombie games, delivering horrifying undead foes that are both persistent and deadly. Tense showdowns with these gruesome horrors will leave you on the edge of your seat, pushing your survival instincts to their limits. Casual gamers beware: this is not for the faint-hearted.
As expected in top-tier gun games, Last Knight offers an expansive arsenal of weapons for your battle against the monstrous hordes. From rapid-fire pistols to devastating shotguns, each firearm feels satisfyingly destructive. The game even integrates an innovative equipment synthesis system, providing endless possibilities for power-ups and enhancements to take down stronger monsters.
This is more than just action; it's a fight for survival. As part of the survival games genre, Last Knight throws you into a relentless world where resources are scarce and danger lurks around every corner. Your success depends on your ability to conserve ammunition, craft advanced equipment, and strategize under pressure.
In conclusion, Last Knight is a momentous journey that pushes the boundaries of zombie-themed action games. It seamlessly blends gun-slinging combat with tense survival gameplay in a desperate fight to save humanity. This gruesome yet exhilarating combination will have both seasoned action enthusiasts and newcomers coming back for more.
What are the best online games?