Laser Cannon Levels Pack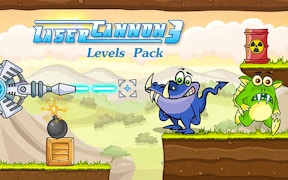 Laser Cannon Levels Pack
Immerse yourself in the dynamic world of action games with "Laser Cannon 3: Levels Pack." This game seamlessly merges the realms of gun games, monster games, and battle games into an exhilarating, skill-testing adventure that will captivate your senses and challenge your strategic prowess.
From the instant you ignite your laser cannon, you're thrust into a fantastical universe of eerily adorable furry monsters. Your aim? Squash, decimate, and exterminate these creatures in a deadly dance of precision and strategy. This isn't your typical monster game - it's a dynamic test of endurance that will not only keep you on the edge of your seat but also refine your Skill Games capabilities.
The most compelling aspect of this game is its ingenious blend of physics-based puzzle elements and fast-paced action. With each level, you're faced with new challenges that demand adaptability and quick-thinking. Whether it's mastering ricochet shots or tactically using explosive barrels to achieve maximum destruction - every decision matters.
The monsters aren't just targets to be demolished; they're an integral part of a rich, immersive world that demands exploration and rewards innovation. The key to mastering "Laser Cannon 3: Levels Pack" is to take full advantage of its vibrant environment.
This game guarantees an adrenaline-fueled experience that constantly pushes your limits while simultaneously offering hours of entertainment. It's a riveting addition to any gamer's arsenal who has a penchant for gun games or monster games with a strategic twist - "Laser Cannon 3: Levels Pack" is here to redefine what action-packed means!
If you're in search for an exciting blend of strategic gameplay, unique challenges, lovable enemies, and endless fun - then don't wait any longer - ignite your laser cannon and join in on the battle today!
What are the best online games?