Laser Cannon 2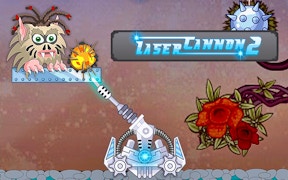 Laser Cannon 2
Step into the adrenaline-fueled universe of Laser Cannon 2, one of the most explosive and heart-racing action games that expertly blends the thrilling genres of gun games, monster games, and battle games. Every level is meticulously crafted to test your skills, delivering intense gameplay mechanism that skilled gamers would rejoice.
Laser Cannon 2 is a triumph of game design, leveraging the primal joy of crushing monstrous adversaries with the high-powered weapon typical in classic gun games. The monsters are not just cannon fodder - each heralds its unique challenge, making this monster games genre more engaging and thrilling than ever before.
Fans of strategic action and battle games will love diving headfirst into combat, employing savvy tactics to tackle waves of monstrous foes while deftly utilizing the environment to their advantage. It's a symphony of devastation that rewards both quick thinking and fast reflexes, underlining the game's main draw as a standout among skill games.
The latest edition has gone several leagues ahead from its predecessor. The 'new' in 'New Laser Cannon' is not just nominal but integral as well. Larger levels, improved graphics, smoother gameplay and intricately designed complexities – it's all bigger, better and certainly more beautiful.
The key highlight? Explosions! They aren't merely decorative - they're majestic, satisfying expressions of your tactical prowess in this highly competitive sphere of battle games. With every detonation echoing your growing expertise in conquering formidable challenges.
In conclusion, if you're on the lookout for an action-packed extravaganza that tests your gaming skills while keeping you constantly on the edge with its intense monster encounters and robust battle scenes, then look no further than Laser Cannon 2. So ready your guns, hone your strategy skills because this monster game is bound to blow you away!
What are the best online games?