Kly Kly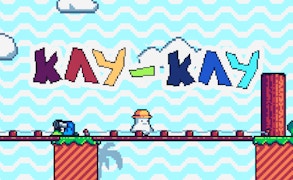 Kly Kly
Description
In the world of Kly Kly, you are thrust into an adrenaline-pumping adventure with a entrancing creature named Klu-Klu. You are tasked with overcoming fearsome monsters lurking in four different dimensions. The game is enveloped in 4 thrilling worlds, each offering 8 levels that progressively challenge your skills and a BOSS to outplay at each world's end. Your mission, should you choose to accept it, is to obliterate all bosses!
How to Play
Manoeuvring Klu-Klu requires simple keyboard controls: use the arrow keys for movement and the space bar for jumps or attack. As you navigate through each level, dodge obstacles, defeat lesser monsters and collect power-ups for strength. The ultimate showdown is with the BOSS at the end of each world. Progression in Kly Kly depends on your ability to strategise and defeat these bosses.
Tips and Tricks
While playing Kly Kly, agility and strategy are essential. Time your jumps precisely to evade enemies and traps alike. Be sure to gather all power-ups; they grant necessary boost in your battles against the bosses. Always observe the bosses' attack patterns to know when to strike or defend.
Features
Vivid retro-style graphics that offers a unique gaming experience.
32 challenging levels across 4 different worlds.
Diverse range of monsters and bosses.
A variety of power-ups to support your journey.
What are the best online games?