King Bird Tower Defense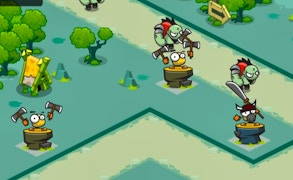 King Bird Tower Defense
Embrace the thrill of strategic combat in King Bird Tower Defense, an incredibly engaging title in the realm of management games. This game lets you delve into the world of sword games, archery games, and battle games, offering a comprehensive gaming experience that blends strategy, war, and animal themes seamlessly.
In King Bird Tower Defense, you are not just a warlord. You are a strategist crafting intricate battle plans in high-octane war scenarios. Imagine your screen being turned into an adrenaline-pumping battlefield, catapulting you into the heart of fierce clashes. From blood-thirsty monsters to majestic beasts, it includes everything that makes for compelling animal games and monster games.
The game boasts multiple levels of mind-boggling challenges requiring tactical genius. Each level unfurls with complexity, raising the stakes and suspense - a testimony to its ranking among top-tier battle games. And it's not just about strategic onslaught; defense is key here. You have at your disposal multiple towers each with unique abilities to protect your reign from enemy onslaughts.
As if this wasn't enough, King Bird Tower Defense further impresses with its stunning graphics which immerse gamers in the vibrant world of war games. The visuals perfectly marry with the game's tone and pace, driving home an immersive experience throughout.
In conclusion, King Bird Tower Defense is a must-play for fans of strategy gaming and offers a potent mix of management skills development and visceral war action. Brace yourself for a ride into the world where swords clash, arrows fly, towers stand tall, and monstrous creatures lurk!
What are the best online games?