Killer Assassin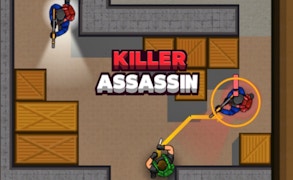 Killer Assassin
Step into the dark, ominous world of Killer Assassin, an adrenaline-fueled action game that masterfully combines key elements from skill games, gangster games, and police games. This intoxicating fusion of genres creates a unique gaming experience, making Killer Assassin stand out in the crowded field of action gaming.
Playing the role of the cool and deadly Assassin, your primary goal is to mercilessly eliminate enemies from the comfort of shadows. The game demands a strategic approach, urging you to exploit your surroundings and outsmart the opposition rather than relying on brute force alone. Sticking to shadows, avoiding flashlight beams, and choosing the perfect moment to strike ensures your survival as you navigate through each tantalizing level.
The crux of Killer Assassin lies in its cunning stage designs, constantly pushing you to stay hidden while assessing threats around you. The graphics beautifully render a shadowy underworld populated by gangsters and police alike. The pacing further enhances the tension as you wait for an opportunity to strike your foes before they detect your presence.
This isn't your usual run-of-the-mill action game - it's a tactical test of patience and precision that requires impeccable timing for executing attacks and maintaining stealth. Learn to master these skills, and you'll find yourself immersed in one of the greatest gangster-police-style action games.
In conclusion, Killer Assassin offers an intoxicating mix of strategy and action with its addictive gameplay mechanics focusing on stealth assassinations. This is not just another game; this is an enthralling journey through a dark world where every move counts. Enter at your own risk!
What are the best online games?