Kill the Zombies 2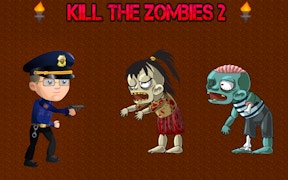 Kill the Zombies 2
Description
Step into the thrilling and suspense-filled world of Kill the Zombies 2. Take on the persona of a seasoned policeman tasked with eradicating a zombie menace in an eerily quiet park. Experience improved gameplay, enjoy freedom of movement around the map, and engage in exhilarating battles against relentless undead. Up for the challenge? Embark on this gripping journey today and quench your thirst for excitement.
How to play
Navigate your way around the map using keyboard controls. The mouse is used to aim and shoot at incoming zombies. Keep track of your ammo and reload when necessary. Strategic movement and positioning is key to survival. As you progress through waves of zombies, you will earn points that can be used for upgrades or to access new areas within the park.
Tips and Tricks
Aim for headshots to bring down zombies quickly. Conservation of ammunition is crucial, so make each shot count! Stay in constant motion to avoid getting surrounded by zombies. Using obstacles in the environment to slow down or stall zombies can give you necessary breathing room during intense moments.
Features
Innovative gameplay mechanics ensure non-stop action
Diverse zombie types require different strategies to defeat
Ambient game setting that heightens tension
Strategic element - use environment to your advantage
Progressive gameplay with upgradable weapons and access unlocks
What are the best online games?