Kick The Zombie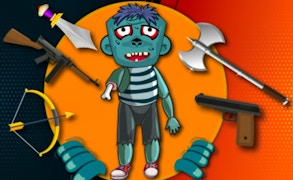 Kick The Zombie
If you're a fan of action-packed zombie games, battle strategies, and an arcade-style tap fest, then Kick The Zombie will have you hooked in no time. With scarily addictive gameplay coupled with the thrill of fighting off the undead, this game redefines the boundaries of conventional clicker games.
The plot is simple yet gripping - set in the eerie ambiance of a Halloween night, you find yourself facing a chilling adversary – a zombie. It's your mission to annihilate this potent threat using your arsenal of weapons. The stakes are high, the adrenaline rush is real, and your neighbourhood has never seemed so terrifying.
In contrast to many action battle games, Kick The Zombie stands out for its simplicity and ease of play. It fully embraces its identity as a clicker and tap game without compromising on its engaging narrative and immersive atmosphere. There's no need for complex maneuvers or intricate strategies. Just tap, attack, and survive.
Every tap counts as you're thrown into a relentless fight for survival against unyielding undead forces. Each click sends shockwaves through the army of zombies advancing towards you. With every successful hit sending your undead foes back to their graves.
The thrill and fear that Halloween brings are perfectly captured in Kick The Zombie. Whether it's taking down zombies or striving to keep the neighborhood safe, this game promises an experience filled with griping tension and exhilarating action.
In summary, if you're seeking an action game with an edge, or a fan of zombie games or tap games that provide endless hours of entertainment – look no further than Kick The Zombie. This Halloween, brace yourself for zombie warfare like never before.
What are the best online games?