Kick The Teddy Bear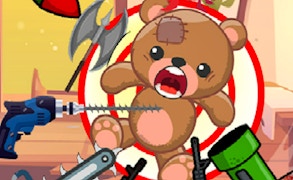 Kick The Teddy Bear
Unleash your fury on a hapless plush toy in the exhilarating Kick The Teddy Bear, one of the most engrossing clicker games available in the action genre. Whether you're a veteran gamer or a casual player, there's something strangely satisfying about the tactile appeal of tap games. And Kick The Teddy Bear cranks that satisfaction up to eleven.
Your main target is an adorable teddy bear that's disarmingly cute, even as you unleash hell upon it. Don't let its innocent gaze fool you - this is no cuddly companion. Kick The Teddy Bear offers endless fun as you get to administer some tough love with a variety of weapons at your disposal.
The game's appeal lies in its simplicity. Your single-tap controls are responsive and intuitive, enabling even novices to quickly acquire weapons, aim and attack. But where Kick The Teddy Bear earns its stripes is in its weapon variety. You can acquire anything from conventional firearms to otherworldly alien blasters, all designed with an eye for detail that adds another level of enjoyment.
Kick The Teddy Bear is more than just a clicker game, it's an anti-stress therapy session wrapped up in an engaging digital package. As far as tap games go, it stands out from its peers with its unique blend of visceral action and whimsical charm.
If you're looking for a game to vent your frustrations without causing real-world damage, then Kick The Teddy Bear might just be your perfect fit. It's simplistic yet satisfying, violent yet charming – and overall an experience any action game lover shouldn't miss.
So why wait? Download Kick The Teddy Bear now and step into the world where stress relief meets limitless fun!
What are the best online games?
Tags