Kick the Huggie Wuggie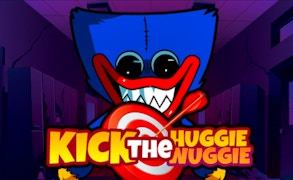 Kick the Huggie Wuggie
Welcome to Kick the Huggie Wuggie, a captivating maelstrom of action and strategy neatly wrapped up in the increasingly popular genres of clicker games, tap games, and battle games.
In a world swarming with bothersome monsters, Kick the Huggie Wuggie provides an adrenaline-fueled escapade that sees players using their quick clicker skills to combat the horde. This game is an unrelenting, pulse-pounding, finger-tapping thrill ride that appeals not just to fans of rapid-fire action but also to lovers of strategic battles. Its rag doll physics provide a sense of realism, while its arsenal of weapons keeps things exciting and unpredictable.
The unique weaponry available for players to wield is truly one of the game's standout features. From pistols to grenades, mines and flamethrowers, each tool in your arsenal provides a distinctive twist in gameplay - giving gamers plenty of room for crafting their own strategies.
The fun doesn't stop there; Kick the Huggie Wuggie offers an engaging system where users can collect coins throughout their battles. These coins can then be used to unlock new weapons and modes, offering a satisfying progression system that keeps players coming back for more. The ability to constantly upgrade your arsenal serves as a tantalizing hook that keeps each monster-kicking session feeling fresh and rewarding.
If you're looking for non-stop action-packed fun with a strategic edge, look no further than Kick the Huggie Wuggie. It's time to delve into this rich world and tap your way through waves of pesky monsters - armed with anything from blades to flamethrowers. The battle awaits!
What are the best online games?