Kick the Dahmer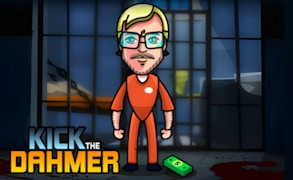 Kick the Dahmer
Experience a thrill unlike any other in the action-packed world of Kick the Dahmer, a game that uniquely blends elements of battle games, gun games, clicker games, and tap games. Immerse yourself in an adrenaline-filled adventure as you encounter the notorious Serial killer Dahmer waiting for his deserved doom.
Feel your heart race as you unleash your fury on your adversary, making use of an arsenal more limitless than any other. From rockets and grenades to automatic rifles and torture instruments, every weapon serves to increase your taste for victory. Let go of any hesitation, and tap into an untamed desire for destruction - because in Kick the Dahmer, there's no such thing as mercy.
Elevate the experience with the power of the Metal Bar, or reduce your enemy to ashes with the fearsome Flamethrower. This is not just a game - it's a relentless pursuit of justice served cold. It's time to explode, destroy, fire, shoot, freeze and keep going until you achieve victory.
If you're seeking more kicks or even if you're generally stress-free, this game provides a satisfying vent for pent-up aggression. There's more to this game than meets the eye as it doubles up as a stress-buster like no other.
To sum up, Kick the Dahmer is not just another addition to your collection of action games - it's an electrifying experience that will keep you on your toes with its unending arsenal and challenging encounters. Don't just play; live the game! So gear up and get ready to plunge into explosive gameplay - dahmer is waiting!
What are the best online games?