Kiba & Kumba: Jungle Run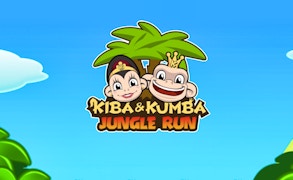 Kiba & Kumba: Jungle Run
Get ready to venture into the wild jungle with the electrifying action game, Kiba & Kumba: Jungle Run. This dynamic addition to running games catapults you directly into a thrilling adventure filled with daring challenges and vibrant visuals.
In Kiba & Kumba: Jungle Run, players have the chance to embark on a unique quest alongside two adorable apes, Kiba and Kumba. Immediately setting itself apart from other animal games, this game presents an intoxicating blend of fast-paced action, engaging gameplay, and captivating graphics.
You will find yourself navigating tricky terrains, dodging deadly obstacles, and sprinting through lush environments. The control system is smooth and responsive, ensuring you feel every leap, roll, and fly as though you were truly part of this jungle escapade.
The game's design is refreshingly original with beautifully illustrated settings that truly bring the jungle to life. Easily one of the most visually stunning running games, it perfectly captures the essence of a raw yet enchanting wilderness.
The magic of this action-packed game extends beyond its aesthetic appeal. It's not just about running; it's about survival in a fierce world where danger lurks around every corner. The beasts you encounter are more than just obstacles; they become vital parts of your journey as you weave through their territory.
To summarise, Kiba & Kumba: Jungle Run stands out in an ocean of running games. Its addictiveness lies in its challenge. Each play-through presents a new opportunity to hone your skills further as you dive deeper into this awe-inspiring jungle experience. If you are on the hunt for engaging animal games, this one should definitely be at the top of your list.
What are the best online games?