Kaitochan vs Ghosts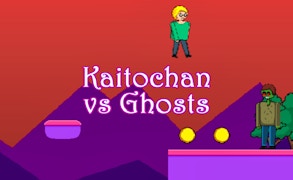 Kaitochan vs Ghosts
Description
Immerse yourself in the spooky and thrilling world of Kaitochan vs Ghosts, a 2D platformer steeped in Halloween themes. As Kaitochan, your main task is to gather yellow orbs scattered across each level whilst evading a horde of pumpkin adversaries, flying ghosts, and dangerous hurdles such as fire and deadly spikes. Only upon collecting all orbs will the exit door unlock, granting you passage to the next level. With 8 diverse levels increasing in difficulty, expect a truly haunting gameplay experience.
How to Play
The game controls are simple and intuitive. Use the "WASD" or "Arrow" keys for Kaitochan's movements. For a high leap or to avoid obstacles, you can execute a double jump by pressing the "W" or "Up arrow" keys twice in quick succession. Remember that your progression hinges on gathering all yellow orbs to unlock the exit door.
Tips and Tricks
Avoid rushing through levels as this might result in missed orbs or unexpected encounters with enemies. Always aim for accuracy over speed with jumps—especially double jumps—to avoid landing on harmful spikes or into flames. Timing is essential when dealing with flying ghosts; remember they move in predictable patterns.
Features
Eight challenging levels with increasing difficulty.
Gorgeous 2D graphics with Halloween themes.
Diverse obstacles including pumpkin foes, fire, spikes, and flying ghosts.
User-friendly control schemes suitable for both novice and seasoned players.
Dual movement controls using either "WASD" or "Arrow" keys.
What are the best online games?