TrollFace Quest: Horror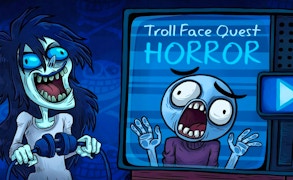 TrollFace Quest: Horror
If you're a fan of horror games, love a good scare, and enjoy getting your brain in gear, then TrollFace Quest: Horror is a game that should certainly be on your radar. Designed to tickle your funny bone and send shivers down your spine simultaneously, this game is an eerie and exhilarating blend of dread and delight.
TrollFace Quest: Horror, as its title suggests, features plenty of chilling elements, making it one of the standout entries when it comes to scary games. However, don't be fooled by the horror tag. This is a game that truly straddles genres. At its core, it's a puzzler that will challenge your wit and make you think in ways that you haven't before.
The beauty of the game is its incorporation of familiar elements from popular horror films, TV shows, and video games. It's filled with references that fans of the genre will no doubt relish recognizing. This feature adds an extra level of engagement to the game, making every level feel like a trip down memory lane - albeit a blood-curdling one.
As far as brain games go, TrollFace Quest: Horror poses an array of challenges that will keep you guessing at every turn. The puzzles are ingeniously designed, often requiring unconventional thinking to solve. The rewarding feeling you get when unraveling these mind-twisters far outweighs any fright you might experience along the way.
In conclusion, TrollFace Quest: Horror has transformed the colorful world of memes into a spooky labyrinth full of riddles. It's cleverly crafted and brimming with scares and surprises. If you're after some brain-bending fun with a generous dose of horror thrown into the mix, then this game won't disappoint.
What are the best online games?