Just Jump!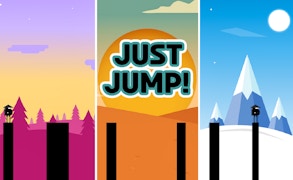 Just Jump!
Description
In Just Jump!, you take on the role of a highly agile ninja navigating through perilous platforms. The player needs to master the tricky task of spring compression to execute flawless jumps and land safely on the subsequent platforms. This intensely thrilling action game demands precise timing and quick reflexes, immersing players into a world filled with challenge and excitement.
How to play
Playing Just Jump! requires sharp focus and smooth coordination. Press down and hold on your character for longer durations to compress the spring for bigger jumps. Release at the right moment to propel your ninja from one platform to the next. Progress through the game depends on your ability to judge distances accurately, ensuring your ninja's safe landing.
Tips and Tricks
To excel in Just Jump!, remember that the height of your jump is directly proportional to how long you hold down on screen. Understanding this mechanic is key to successfully navigating platforms. Moreover, practice timing releases precisely for maximum accuracy.
Features
Skill-based Gameplay: Enhances player's timing and hand-eye coordination skills.
Ninja Theme: Engaging action-packed setting perfectly complementing the gameplay mechanics.
User-friendly Controls: Simple tap-and-hold mechanism that's easy to understand but tough to master.
Addictive Gameplay: Provides endless hours of fun with increasing difficulty levels.
What are the best online games?