Jump on Jupiter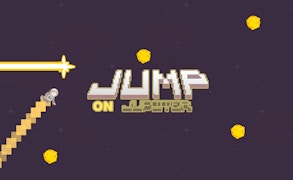 Jump on Jupiter
Description
Experience an exciting spin on a classic game style with Jump on Jupiter. As a brave astronaut, you must navigate through treacherous outer space obstacles, making it a high-intensity, action-filled game. The astronaut's flight path depends on your timing; rapid tapping results in higher jumps, while less tapping causes him to drop. With the unique combo system, scoring is based on near misses and successful portal entries!
How to play
The controls of Jump on Jupiter are simple and intuitive. Tap the screen to decrease the spaceman's altitude and let go for him to jump back up. It's all about timing and precision - learning when to tap and when not to is crucial. Accumulate points by narrowly escaping obstacles and passing through portals successfully.
Tips and Tricks
The key to success in Jump on Jupiter is consistent rhythm and precise taps. Pay close attention to upcoming obstacles - anticipate their position based on your current altitude. Aim for near misses, they not only add thrilling moments but also give you bonus combo points!
Features
Action-Packed: High intensity gameplay keeps you completely engrossed.
Simplistic Controls: Easy-to-learn tapping-based mechanics.
Innovative Scoring: Score points based on near misses and portal entries.
Serene Sound Effects: Beautiful sounds that complement the space theme.
User-Friendly Reskinning: Simply swap images in the designated folder for personal customizations.
What are the best online games?