Jeremy Quest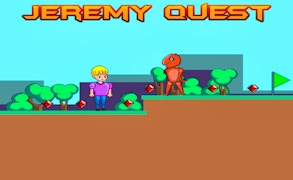 Jeremy Quest
Description
In Jeremy Quest, players are tasked with the thrilling task of traversing an intricately constructed 2D platform world. The game's eight levels are each filled with perilous obstacles, including monsters, fire, and dangerous spikes. Your main objective is to collect all the elusive red gems scattered throughout each level and successfully reach the green flag to advance.
How to Play
The control scheme for Jeremy Quest is simple yet effective. Utilize the "WASD" or "Arrow" keys to guide your character's movements across the perilous landscapes. Interesting functionality includes the ability to perform a double jump by pressing "W" or the "Up" arrow key twice consecutively. This can help you reach higher platforms or avoid challenging obstacles.
Tips and Tricks
To excel in Jeremy Quest, a keen eye and quick reflexes are essential. Keep an eye out for hidden gems and use monsters, fire, and spikes as clues about where gems might be hidden. Mastering the double jump will provide you with a significant advantage by allowing you to overcome complex obstructions.
Features
Engaging Gameplay: The increasing difficulty across 8 levels keeps players interested and challenged.
Intuitive Controls: Simple yet effective controls facilitate smooth player interaction.
Puzzling Obstacles: Diverse obstacles such as monsters, fire, and spikes add complexity to the gameplay.
Creative Platformer Element: The double jump mechanism adds a creative twist to traditional platformer elements.
What are the best online games?