Inoi 2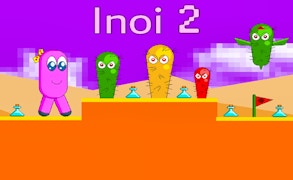 Inoi 2
Description
In the adventurous Inoi 2, you'll find yourself maneuvering through various levels filled with prickly cactus obstacles of different colours and sizes. Your mission involves not just reaching the red flag, but also collecting all water containers scattered across each level. This game, a thrilling sequel to the beloved Inoi, boasts 8 levels, each increasing in complexity and challenge.
How to play
The controls for Inoi 2 are straightforward: use either "WASD" or "Arrow keys" to navigate your character through the platformer landscape. To double jump, hit "W" or "Up" Arrow twice. Take note that every level is complete when you collect all water containers and reach the red flag.
Tips and Tricks
While playing Inoi 2, remember to always double jump when necessary as it can save you from falling into traps. Keep an eye out for patterns in obstacle placement; anticipating their locations can increase your chances of success. Don't rush - patience and strategy will help you master this game.
Features
Simple, easy-to-learn controls
A total of 8 levels with increasing difficulty
Double jump capability for extra mobility
Dynamic obstacle placement enhancing gameplay experience
A thrilling sequel to the popular Inoi game
What are the best online games?