Impostor Warline 456 Survivors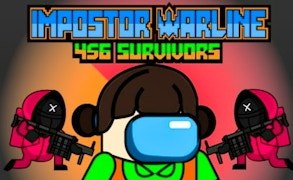 Impostor Warline 456 Survivors
Engage in bloody warfare in an uncanny blend of the cute and catastrophic; enter, Impostor Warline 456 Survivors, an electrifying addition to the roster of gun games, battle games, and war games. Brought to you by kiz10.com, this game is a haven for adrenaline junkies with a penchant for splattered pixels and high-octane action.
Be prepared to guide unassuming amongst us into armed combat, battling against rebellious characters who are hell-bent on eliminating them. The gameplay is both gripping and chillingly real as these tiny warriors fight tooth and nail to survive the onslaught. This isn't just a game; this is survival distilled into its rawest, most volatile form.
The beauty of Impostor Warline 456 Survivors lies not only in its frenzied battles but also in its innovative gold collection feature. Victory isn't just about being the last one standing; it's about making strategic decisions on when to be daring or defensive. As you accumulate gold from your conquests, your power grows, strengthening your position in this heart-stopping war game.
This game stands unique among other gun games with its blend of innocent characters thrust into an intense war zone. Be warned - it's not for the faint-hearted. Stunning visuals paired with enthralling gameplay ensure that each encounter is more exciting than the last.
In conclusion, Impostor Warline 456 Survivors gives gamers a thrilling exploration into dark battles that hide behind an intriguing premise. Each level ups the ante, demanding more strategy and skill to emerge victorious, while offering plenty of fun and excitement along the way. Buckle up and prepare for battle!
What are the best online games?