Impostor Archer War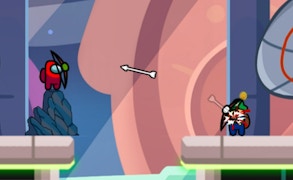 Impostor Archer War
Dive into the thrilling universe of the Impostor Archer War, an action-packed adventure that perfectly amalgamates the two popular gaming genres — archery games and battle games. This innovative and engaging game from kiz10.com will keep you hooked with its fascinating storyline and challenging gameplay. It is not just another cookie-cutter addition to the action genre; it offers a unique blend of strategic battle tactics with precision-required archery.
The game puts you in control of the adorable Among Us character, armed with a bow and arrows. Your primary task is to eliminate sly infiltrators sneaking amidst your crew. The concept might sound simple, but don't let it fool you! The gameplay requires agility, tactical skills, accuracy in aiming, and most importantly, an eagle eye to distinguish friends from foes.
In Impostor Archer War, each arrow released has potential implications on your survival within this buzzing universe. Dodge incoming arrows while firing your own accurately into enemy lines. Keep yourself upgraded to have an edge over your enemies and rise to become the supreme archer among us. It's crucial for gamers who love strategy-oriented action-packed archery games or battle games.
The game encapsulates a nail-biting experience where every decision impacts warfare outcomes—making it a must-play for every action-game enthusiast. Transform into among us characters, let those arrows fly, trust your instincts, punish the traitors, and bring victory in this relentless cosmic war!
In conclusion, if you're thirsting for some adrenaline-rushing adventure that seamlessly merges strategic elements with action-filled narratives , then look no further than Impostor Archer War. This game isn't just about winning; it's about surviving in an intense battle environment filled with treachery and deceit. So are you ready to take up this challenge? It's time for war!
What are the best online games?