Imposter Expansion Wars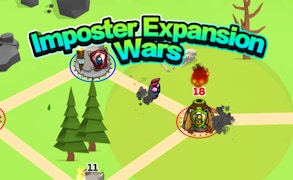 Imposter Expansion Wars
Welcome to the thrilling world of Imposter Expansion Wars, a captivating blend of war games, knight games, management games, and city building games. It's a strategy gamer's paradise where you command armies, plan invasions, and build your empire in a never-ending saga of conquest.
Your battlefield is a kaleidoscope of blue and red towers. Blue signifies your might; red screams of lurking enemies. The simplicity of the gameplay belies the complex strategies that will unravel as you delve deeper. You tap your tower, an army is mobilized. Stake your claim on enemy territory and watch their towers crumble under your relentless assault.
In this engaging blend of war games and knight games, each tower conquered brings you one step closer to victory. The game compels you to become an imposter among your enemies, sowing discord and chaos before striking with deadly precision. All this while, managing resources and building your kingdom akin to the finest city building games.
Imposter Expansion Wars is not merely another entry into the strategy genre. It pushes boundaries, marrying elements from diverse gaming genres into a single, immersive experience. Building armies, managing resources, planning invasions - every decision counts here.
Surrender is not an option in these tumultuous wars of expansion. The game continues until every enemy tower has fallen to your troops. And so it invites you back time after time - urging you to strategise better, fight harder, conquer more.
If you crave strategy intertwined with action, if wars waged in pixels fascinate you – then look no further. Come to invade! Invade now! Unleash your inner strategist with Imposter Expansion Wars .
What are the best online games?