Impossible Car Stunt Game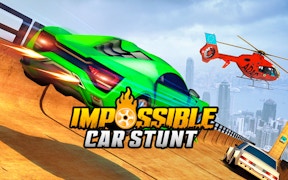 Impossible Car Stunt Game
Welcome to the adrenaline-pumping universe of Impossible Car Stunt Game, the pinnacle of real impossible tracks in the realm of car racing games. This is not just a game, it's an exhilarating journey that catapults you straight into the sky highs on endless extreme tracks. Feel your heart pound as you rush like a master stunt driver and outwit your rivals in this mesmerizing adventure.
Just as a falcon dives for its prey, plunge into insane acrobatics and drifts mid-air on an impossible 3D track. It's fast-paced, it's thrilling and it certainly isn't for the faint-hearted. With your seat belt fastened, take off into an outrageous challenge unlike anything you've faced in this car racing simulator game 2019. Trust me when I say, this isn't like any other car stunt games you've played before!
Delve into the mesmerising world of off road car rally, teeming with fun and adventure so real you'll forget it's a game. Don't just play the game, live, breathe, and feel every twist and turn in this wild ride. This is not merely an addition to the genre of car games - it sets a new benchmark for other titles to aspire toward.
The Impossible Car Stunt Game brings forward an addictive experience that will have you coming back for more. Gear up gamer folks! Be ready for the world no 1 drift car racing game. Brace yourself to enjoy crazy stunts in the most realistic manner ever represented in a car game!
Consider this your final warning - once drawn into the captivating world of adrenaline fuelled racing stunts, there may be no coming back! And remember, legends never stop - they keep playing until they conquer the game!
What are the best online games?