Ultimate OffRoad Cars 2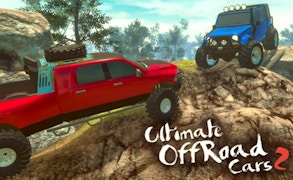 Ultimate OffRoad Cars 2
Unleashing a whole new realm of vehicle-oriented adventures, Ultimate OffRoad Cars 2 is an innovative entry into the world of car games, driving games, and simulator games. This intricate and adrenaline-pumping driving simulator goes beyond the regular track racing by bringing you into a world of mind-blowing offroad challenges.
This gripping game is no ordinary ride; it's a beautiful blend of speed, precision, and strategic driving. It takes the thrill of truck games to another level with its dynamic offroad terrains that challenge your foresight and dexterity. Driving becomes a game of chess, where every move can make or break your progress.
The game's unique design will push your truck handling skills to the limits with its complex obstacle courses. You are not just in a race against time but also embarking on a high-stakes quest to conquer unpaved paths without losing control. Get ready to experience the raw essence of what true Offroad games feel like.
In Ultimate OffRoad Cars 2, it isn't about who finishes first; it's about who finishes at all. When each course brims with steep hillsides, dangerous drop-offs, muddy tracks, and treacherous water crossings, only those who can keep their cool amidst chaos will triumph.
Capture the sheer excitement of off-road driving in this remarkable simulation game that does justice to its genre. If you're looking for a stimulating mix of conflict and conquest set within the context of grueling terrains and risky routes, gear up for Ultimate OffRoad Cars 2.
In conclusion, give Ultimate OffRoad Cars 2 a spin if you are an ardent fan of car games,racing games,simulator games,,
What are the best online games?