Madalin Cars Multiplayer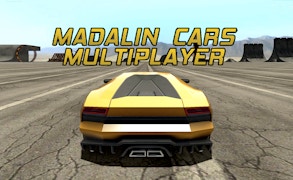 Madalin Cars Multiplayer
Whether you're a fan of heart-thumping car games, feel the need for speed in intense drifting games, or can't resist the thrill of off-the-beaten-track challenges of offroad games, you will find Madalin Cars Multiplayer a must-play.
Diving headfirst into the world of Madalin Cars Multiplayer, you are treated to a tantalizing array of sports cars, each one meticulously designed and boasting incredible performance stats. But this is not your standard drive-around-the-block type of driving game. Oh no. Madalin Cars Multiplayer invites you onto maps bursting with lipstick-red ramps, dizzying loops, and challenges that will have the adrenaline pumping through your veins.
Exactly what sets this game apart in the crowded sphere of online multiplayer car games? It's all about freedom, baby. Freedom to pick between countless high-octane sports cars, freedom to set loose on various earthen tracks or polished racing circuits, freedom to either strut your stuff in single-player or pit yourself against others in multiplayer mode. Yes, this is an eden for speed-demons and drifting aficionados alike.
The graphics are nothing short of mesmerizing - smooth, responsive and will keep you glued to your screen for hours to come. And let's not forget about the controls - sleek driving dynamics that make maneuvering these powerful machines a dream.
In conclusion, if it's raw speed, superb graphics and thrilling moments you're seeking – look no further than Madalin Cars Multiplayer. It has firmly established itself as a top-ranking player in the realm of multiplayer racing games - a feat hard-earned but very much deserved.
What are the best online games?