Immense Army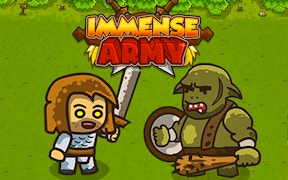 Immense Army
Prepare to immerse yourself in the battlefield with Immense Army, a thrilling fusion of RPG and strategy genres. This game takes you on a gripping journey where war, battle, and knights rule the land, drawing you into a world where only the strongest survive.
With its roots firmly planted in the war games, battle games, and knight games genres, Immense Army quickly sets itself apart with a unique idle gameplay mechanic. This is a game for those who relish the thought of constructing an unparalleled army while also enjoying the perks of an idle game.
In Immense Army, your strategic acumen is frequently tested as you navigate through intense goblin warfare. Boasting features such as unit training, treasure hunting, and gold mining, it's much more than your average clicker game; it's an epic battleground that constantly challenges you to harness your resources and fortify your armies effectively.
This innovative blend of RPG and strategy takes the standard idle clicker gameplay and amplifies it with robust strategy elements. As one of the best clicker games in its category, Immense Army offers a depth of gameplay that is rare to find in other idle games.
Immense Army stands tall among other monster games, too. The thrill of crushing goblin armies provides an adrenalin rush that is hard to match. Each victory against these monstrous foes pushes you closer to glory, providing a satisfying sense of accomplishment.
In conclusion, Immense Army delivers an addictive mix of strategic planning and idle gaming. It's one war game that will keep you coming back for more battles and more victories. Embark on your quest today – who knows how immense your army could become?
What are the best online games?