Idle Zombie Guard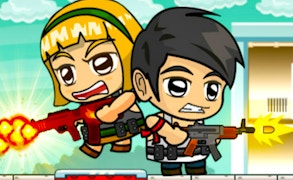 Idle Zombie Guard
Enter the adrenaline-fueled world of Idle Zombie Guard, an electrifying addition to the realm of action-packed zombie games. Each blood-curdling wave of undead hordes immerses you in nail-biting tension, making this one of the most challenging and captivating battle games in recent memory.
The game whisks you into an apocalyptic scenario where you form part of a brave guard team defending the last bastion of humanity. The cataclysm? A relentless onslaught of zombies with a single mission - to annihilate your servers. Your survival, and that of humanity, hinges on your ability to activate target weapons and fortify your defense with upgraded turret towers.
As with all exemplary gun games, Idle Zombie Guard offers an impressive arsenal at your disposal. But spend your points wisely - the upgrades you choose could mean life or undeath. Whether it's enhancing your personal firepower or strengthening defenses around the vulnerable servers, each choice carries weight.
The game ups the ante by introducing a new breed of enemies – Fire Zombies - immune to anything but the icy blast from the ICE Gun. This thrilling mix of chilling danger and decisive action intensifies each round, making it one of the most sought-after monster games on the market.
An extra dash of strategy is added with the "Market" section. Here, you can buy stronger weapons or that much-needed extra health bar to prolong your survival against increasingly powerful waves of zombies.
In conclusion, Idle Zombie Guard ticks all boxes for any battle-hardened fans of zombie games, gun games, and monster games. It's a thrilling ride that keeps players engaged from start to finish - truly a must-play in today's gaming sphere!
What are the best online games?