Idle Hotel Empire Tycoon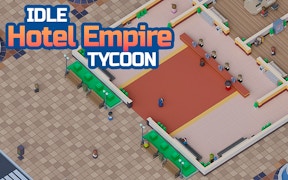 Idle Hotel Empire Tycoon
Description
In Idle Hotel Empire Tycoon, you step into the shoes of a hotel manager. Start with a small establishment and slowly expand it into a thriving business. Add and upgrade facilities like rooms, restaurants, and leisure areas to attract more guests. Hire staff to maintain your hotel and invest your profits back into your business to watch your empire grow!
How to Play
This game is all about strategic planning and management. Tap on the progress bar over the cash desk or reception to speed up service times. Open new facilities to increase profits per visitor. Short videos award instant bonuses that can help boost your earnings!
Tips and Tricks
Reinvesting profits back into the business is key. The more upgrades you make, the more visitors you'll attract. Use instant bonuses wisely— they are short-lived but can give a significant boost to your earnings.
Features
Easy-to-understand Idle Tycoon gameplay.
A variety of facilities to upgrade and manage.
Hiring system for staff management.
In-game bonus system for quick earnings boost.
Engaging graphics that enhance User Experience.
What are the best online games?