Idle Farm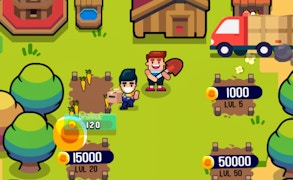 Idle Farm
Immerse yourself in the captivating and delightfully addictive world of Idle Farm, a standout title in the realm of arcade farm games. This game shimmers with a golden promise - get rich by farming! Here's your ticket to transforming from a simple pixel farmer to an agricultural tycoon, all while idling away, absorbing the stress-free lifestyle of rural charm.
As you plunge into this clicker game's pastoral paradise, you'll find it impossible not to fall in love with its enchanting gameplay, which makes it a crowned jewel among idle games. With each tap and click, you set the wheel of wealth into motion - plant seeds, harvest crops, and watch your profits soar. Quite akin to watching a seed sprout into bountiful yield right before your eyes!
Idle Farm is a robust entrant into the tap games sphere, where each tap carries weight – literally! The unique mechanic of tapping to earn money brings an exciting twist and gives players an active role in their fortune-making journey. Your fingers are the magic touch that transforms barren lands into lush green fields teeming with profit.
The beauty of Idle Farm extends beyond its gameplay. It's also about strategy — figuring out what crops to plant for maximum profit or what equipment upgrades can speed up your farming process. This complexity elevates it beyond most idle clicker games and offers players a mental challenge wrapped up in delightful farm aesthetics.
In conclusion, if you're searching for a game that combines the charm of farm games, the addictive simplicity of clicker games, and the satisfying progression of idle games - look no further! Get set to embark on a leisurely journey with Idle Farm that will leave you reaping rewards while sipping your countryside lemonade!
What are the best online games?