Ice Kingdom Coloring Book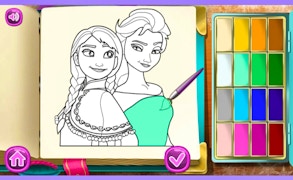 Ice Kingdom Coloring Book
Unleash the creativity within you and discover a wonderful world of Games for Kids and Games for Girls with Ice Kingdom Coloring Book. Journey through an enchanting realm of princesses, magic and endless imagination with one of the best coloring games available.
This unique masterpiece is much more than just a coloring book. It is your golden ticket to the magical snow-capped mountains and beautiful castles of the majestically icy kingdom. Be mesmerized by the cute princesses, their lovely animal friends, and surreal landscapes waiting to be revived through a vibrant spectrum of colors.
The simple yet mind-stirring mechanics make Ice Kingdom Coloring Book an outstanding choice among drawing games. With a plethora of colors at your disposal, each page becomes a blank canvas hungry for splashes of creativity. You are equipped with everything you need to bring to life stunning masterpieces that highlight your inner artist.
This is not just one of those common Princess Games; it's a game that dares you to go beyond the conventional limits and explore your artistic talents. Whether you're shading in a magical creature or enhancing the beauty of royal attire, every stroke adds excitement to your coloring experience.
All in all, Ice Kingdom Coloring Book isn't just an ordinary game—it's an inspiration! A bonding gateway for parents looking to engage their little princesses in fun and educational gameplay. So why wait? Unleash your inner Picasso today with Ice Kingdom Coloring Book: not just 'another' coloring game, but an adventure-filled journey into an enchanted world that cultivates creativity, enhances color recognition skills, and entertains endlessly.
What are the best online games?