I hde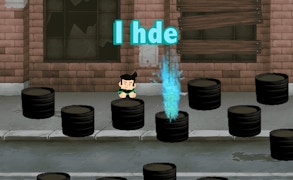 I hde
Description
Get your adrenaline pumping with "I hde," a fast-paced action-packed clicker game. Discover thrilling excitement as you battle against sneaky characters hiding in the bins. The game requires keen attention to detail and quick reflexes to triumph over the enemies. The excitement level soars sky-high when you reach the bonus level, adding an extra layer of fun and adventure to your gaming experience.
How to Play
To play "I hde," master the art of quick, sharp tapping on your screen. Click on the characters hiding in the bins as they pop up randomly. Remember, speed and precision are crucial in this game. Keep a close watch and don't let any character escape your sight. Successfully crushing the characters will lead you to the high-powered bonus level, boosting your score dramatically.
Tips and Tricks
Increase your winning odds with these smart tricks: always stay on high alert as characters can pop up from any bin without a warning, swiftly tap on multiple characters at once during busy moments, and aim for perfect hits to reach the bonus level faster. A steady hand and quick reflexes are invaluable assets for this exhilarating rush.
Features
"I hde" brings unique features that make gaming an absolute joy:
Sleek gaming interface for a seamless experience.
Diverse range of characters for versatile gameplay,
Energetic sound effects that enhance overall playability,
A challenging bonus level for those seeking extra thrill.
What are the best online games?