Hungry Shark Arena Horror Night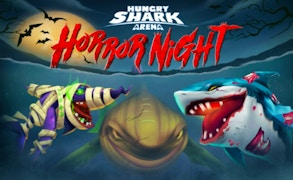 Hungry Shark Arena Horror Night
Welcome to the dark and eerie world of Hungry Shark Arena Horror Night, a masterful merging of intense action games, heart-stopping horror games, thrilling hunting games, and engaging survival games. This unique underwater battle royale game takes you on a chilling journey beneath the waves, where only the strongest, fastest, and smartest sharks survive.
In a menacing twist to traditional sharks games, Hungry Shark Arena requires more than just an insatiable appetite for fish. The waters are red with danger, teeming with gruesome enemies, making it one of the most terrifyingly satisfying scary games. This is not for the faint of heart; rather it's a chaotic and cruel battle arena where you need strategy - to grow bigger by hunting weaker sharks, agility - to dash away from larger predators, and ruthlessness to be the last shark standing!
Beneath the pale moonlight, you will feel chills run down your spine as your shark embarks on this haunting underwater adventure. The thrill of the hunt combined with a spine-tingling ambiance lends itself to an inimitable gaming experience. The predatory environment powered by stunning graphics and excellent control mechanisms makes this one of the most engrossing battle games.
The combination of action, horror, hunting, survival elements wrapped in an intense battle-royale format sets Hungry Shark Arena apart from run-of-the-mill sharks games. A truly chilling ride from start to finish, this game is bound to get your adrenaline pumping each time you dive into its dark watery depths. So brace yourself for a thrilling adventure that keeps you on edge with its jumpscares and sudden attacks in Hungry Shark Arena Horror Night.
If you dare…um...care for a relentless fight for survival at sea coupled with spine-chilling horror elements in an action-packed setting then look no further than Hungry Shark Arena Horror Night.
What are the best online games?