Huggy Kissy vs Steve Alex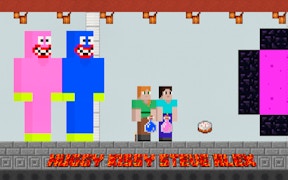 Huggy Kissy vs Steve Alex
Description
In Huggy Kissy vs Steve Alex, experience the thrill of a thrilling chase. You take on the role of Steve and Alex, who are pursued relentlessly by Huggy and Kissiy. Your goal is to evade capture while collecting essential potions needed to open a portal for escape. However, you need to collect three potions for the portal to activate. Fast-paced and heart-pounding, this game promises an adrenaline rush.
How to Play
The gameplay is simple yet electrifying. Use keyboard arrows and WASD keys for two players to control Steve and Alex. The objective is to run as fast as you can from Huggy and Kissiy while collecting the three necessary potions. Reach the portal before your pursuers catch up to you. Keep in mind that without all three potions, the escape portal will not form!
Tips and Tricks
Key strategy lies in using your speed and taking advantage of the game's layout. Try not to corner yourself while collecting potions, always keep a clear path towards your escape route. Remember, communication is crucial in this two-player game! Coordinate with your partner for efficient potion collection and evasion tactics.
Features
Pixilated graphics: Adding a classic vibe to this exciting chase.
Two-Player Gameplay: Perfect for challenging friends or family.
Intriguing Mechanics: Collect potions while escaping relentless chasers.
Addictive Gameplay: Fast-paced action that keeps you on edge throughout the game.
Simple Controls: Easy to learn controls makes it accessible for all age groups.
What are the best online games?