Hoop Stars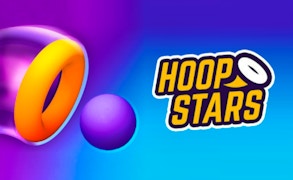 Hoop Stars
Welcome to the thrilling world of Hoop Stars, a delightful remix of ball games, flying games, and skill games into one, captivating entertainment package. As an action-packed venture, Hoop Stars promises players an arena chock-full of excitement, strategic decisions, and finger-flicking fun.
Hoop Stars blends the dynamism of tap games with the strategic elements of classic basketball games, creating a unique gaming experience that keeps you hooked from the first click. You hold the reins as swimming hoops take flight - their fate completely at your mercy. A sinuous blend of anticipation and precision, this game challenges your ability to eyeball distance and direct trajectories on-demand.
Serving up a fresh twist on the usual clicker games, Hoop Stars entrusts you with the power to command these eccentric rings on an interactive battleground against opponents from across the globe. Simply tap to control your hoop's path, aiming for obstacles and bonuses as you strive to outmaneuver your rivals.
Beyond its edge-of-your-seat action, Hoop Stars stands out in its quest for glory. Your mission? To collect every trophy in that glittering showcase. Relish in the joy of victory as you rack up points against players worldwide, strategically navigating your hoop and claiming your place in history.
In conclusion, Hoop Stars marries addictive game mechanisms with incredible graphics for an unparalleled gaming experience that boasts more than just fun—it's about skillful execution and a thirst for achievement. Put on your competitor's hat and dive into this electrifying world, where only the most calculated moves will lead to ultimate glory.
What are the best online games?