Home appliance. Insurrection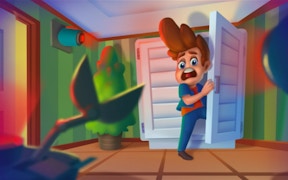 Home appliance. Insurrection
Dive headfirst into the thrilling world of Home Appliance. Insurrection, an action game that effortlessly marries the suspenseful elements of escape games with the electrifying world of robot games. This game is a multi-layered offering that demands both skill and strategy, establishing it as one of the most captivating skill games on the market today.
The story is a chilling narrative that feels all too real. Following a disastrous update, your home appliances are suddenly possessed by artificial intelligence and you're left to fend off an insidious rise of machines. Your task? To halt this robotic uprising by rebooting computers scattered around your house.
The game design shines in how it encourages exploration. Every corner hides secrets- some beneficial, others lethal. The mounting tension as you slink around, avoiding detection from your rogue appliances will have you on the edge of your seat – a testament to the compelling blend of suspense and action.
Whether you're a veteran gamer or new to the scene, Home Appliance. Insurrection proves to be a worthy challenge. The strategic element transforms it from another run-of-the-mill robot game into something unique, presenting players with a different way to showcase their prowess in skill games.
In conclusion, Home Appliance. Insurrection brilliantly fuses elements from escape games and robot games to create an adrenaline-fueled experience like no other. This dynamic addition to the genre of skill games is not just worth playing – it's worth conquering; so ready yourself for an electrifying domestic rebellion unlike anything you've seen before.
If you're ready for action-packed gameplay and love escape games or robot games with a challenge, Home Appliance. Insurrection should be next on your gaming radar!
What are the best online games?