Herobrine Monster School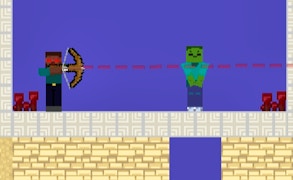 Herobrine Monster School
Immerse yourself in the world of Herobrine Monster School, an action-packed archery game that boasts a robust blend of genres, including pixel games, battle games, zombie games, and Minecraft Games. It's not just another addition to the monster games galore, but a top-notch, pixelated paradise which uniquely mixes fun and fury in equal measures.
This thrilling game is inspired by the popular 'mr bullet' and draws you into the boots of the infamous Evil Herobrine, a rebellious character who is up in arms against the notorious Monster School students. Be prepared to unleash his wrath upon his unruly classmates using wooden arrows, explosives such as TnT, and a devastating crossbow.
Sow chaos in this cubic universe as you step into the role of Herobrine, the leader of an agitated student group determined to decimate obnoxious zombies, slugs, skeletons and fearsome bosses. This isn't just about revenge; it's about silencing the brutes with your prowess via exciting gameplay mechanics enriched by hilarious sounds and engaging monster school animations.
The strength of Herobrine Monster School lies not only in its adrenaline-pumping action sequences but also in its pixel art style that adds a nostalgic edge, reminiscent of enjoyably addicting Minecraft games. This game raises the stakes in thrill as every level unfolds with greater challenges and ruthless monsters.
In conclusion, Herobrine Monster School masterfully combines elements from different genres to produce an unforgettably intense gaming experience. Its clever incorporation of archery elements elevates it from mere zombie or monster games to an exhilarating battlefield that tests your skills to their limits. So gear up, take aim and let your arrows fly - school's out for these monsters!
What are the best online games?