Heavy Combat Zombies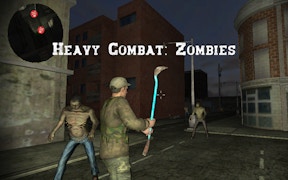 Heavy Combat Zombies
Immerse yourself in the blood-curdling gameplay of Heavy Combat: Zombies, an experience that will resonate with lovers of gun games, zombie games, and war games. This single-player shooter offers an adrenaline-fueled plunge into a post-apocalyptic world, teeming with the undead, and creating a perfect amalgamation of battle games, survival games, and yes, the spine-chilling thrill of scary games.
The relentless pacing of Heavy Combat: Zombies takes you on a roller coaster ride through haunting landscapes and thrilling missions. Its inherent qualities as a sniper game make it stand out, offering you the visceral pleasure of making every shot count. As if looking through the eyes of a veteran war survivor, you're thrust into a world where it's kill or be killed. A sure shot treat for fans of sniper games.
In Heavy Combat: Zombies, survival is not just about staying alive but mastering your weapons. The developers have hit the bullseye by creating one of the most engaging and detailed gun-game experiences around. Each weapon is unique, not just in look but in feel and performance.
This grim narrative unfolds against chilling graphics that are enough to rank it among the top offerings in horror games. Its macabre ambiance is almost meditative - this is terror peppered with strategy, survival interspersed with bated breaths. Juxtaposed beautifully against this high-stakes scenario is an intense war game battle stratagem that urges you to think before shooting.
If you're looking for an enthralling mix of horror, action, and strategy, look no further. Heavy Combat: Zombies has it all – it's a zombie game that transcends its genre tropes to deliver a truly unforgettable experience. A must-play for any fan of zombie games, and easily one of the best additions to your collection this year!
What are the best online games?