Hand Guillotine Online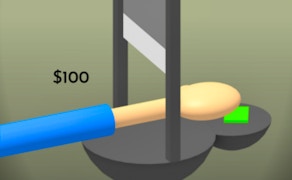 Hand Guillotine Online
Our digital world never ceases to amaze with its varied offerings in the action genre. Hence, I'm beyond thrilled to present my latest review of one of the most nerve-wracking scary games, Hand Guillotine Online. As grim as it sounds, this adrenaline-fueled venture is also one of the absolutely engaging money games lurking out there in the gaming sphere.
Dive headfirst into a realm of high stakes where every move determines your digital well-being. Hand Guillotine Online commands players' attention with its enticingly terrifying premise. Here, you risk your virtual limbs as you frantically grab heaps of cash beneath a menacing guillotine's blade. Your heart pounds in sync with the rhythm of the descending blade as you try to withdraw your hand at the perfect moment.
What differentiates Hand Guillotine Online from other skill games is its blend of fear and strategy. It's not just about reflexes and reaction times; it's a calculated gamble where you must weigh the value of your appendages against potential riches. The perilous dance between life and wealth makes this game an exhilarating ride for hardcore action genre enthusiasts.
The graphics are realistic enough to send chills down your spine each time the guillotine teeters on the brink of decapitating. The interface is user-friendly which makes navigation a breeze even under intense circumstances.
If you have a proclivity for suspense-filled action, Hand Guillotine Online will unquestionably satisfy that itch. With its terrifying premise, dramatic tension, and rewarding payouts, this game seizes your attention and doesn't let go until you've emptied your pockets or lost your fingers. So, dive into this unforgettable experience and see just how far you're willing to go for wealth.
Remember, risk-taking is at the heart of every great gaming conquest; if not, then it's just another level cleared in another run off-the-mill game. Hand Guillotine Online takes this adage to a whole new level!
What are the best online games?