Halloween Scary Jungle Road Drive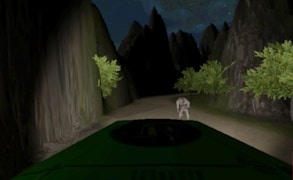 Halloween Scary Jungle Road Drive
If you're an ardent fan of adventure, car games, or horror games, then Halloween Scary Jungle Road Drive is a name you ought to know. A unique blend of horror and adventure, this standout among driving games has carved its space in the gaming community.
The game kicks off with Jamie, your everyday boy-next-door with one difference - an insatiable curiosity for the unexplored. Despite warnings from his friend Aron, Jamie ventures into the supposedly haunted jungle, beginning an eerie adventure that will have you on the edge of your seat.
Halloween Scary Jungle Road Drive plunges you into terrifying darkness within seconds, instilling a sense of dread that only intensifies as you progress. This game sets itself apart from typical car games by embedding an intoxicating storyline within a haunting atmosphere. It's not just about driving; it's about surviving.
The gameplay is vividly depicted, weaving elements of horror seamlessly into a car driving experience - a feature rarely seen in traditional driving games. The suspense doesn't let up; every twist and turn in the haunted jungle gets your heart pounding like a drum beating out a warning.
The question isn't simply whether Jamie survives, but whether you can survive the onslaught of fear and tension that Halloween Scary Jungle Road Drive throws at you. When it comes to scary games, this one takes 'scary' to 'spine-chilling' levels!
This game clearly stands out among typical monster games due to its unique blend of raw fear and adrenaline-fueled car action. Halloween Scary Jungle Road Drive delivers depth in spades, making it an unforgettable ride for those who dare to play.
In conclusion, if your taste runs toward heart-pounding terror interwoven with breathtaking car racing action, then Halloween Scary Jungle Road Drive is the perfect game for you!
What are the best online games?