Halloween Pocket Sniper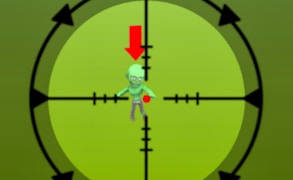 Halloween Pocket Sniper
In the gruesome panorama of trending gun games, the electrifying eyes of a global audience fall upon a captivating title, Halloween Pocket Sniper. This riveting masterpiece of thrills weaves a narrative that engulfs you from the get-go.
Situated within the realm of sniper games , Halloween Pocket Sniper manifests an unusual twist leaving an indelible mark on its players. The mellow town suddenly plunged into ghastly horror as the zombies invaded during Halloween, triggering an adrenaline-filled, heart-pounding escapade.
Innocent lives hang in the balance, and their only hope is the expert guidance of a brave sniper - you! In this gripping encounter against terrifying zombies, your weapon becomes your lifeline. The game offers a diverse range of weapons to choose from, each catering to different strategies and playstyles.
Halloween Pocket Sniper isn't just another addition to zombie games, it's a haunted roller-coaster that ensures you remain at the edge of your seat, trigger-ready and waiting for that perfect shot! The game intricately balances challenge with rewards, amplifying player satisfaction with every lethal headshot.
The intensity turns up a notch when facing powerful zombies, testing your patience and skills to their breaking limits, making it one of the most immersive experiences in gun-based gaming available today.
In conclusion, Halloween Pocket Sniper redefines what it means to be an action-packed sniper game and raises the stakes in zombie warfare. If you're looking for thrilling combat scenarios and advanced weapon mechanics seldom seen in mobile games - then look no further! Take up arms in this spellbinding thriller that will leave your heart pounding long after you've stopped playing.
What are the best online games?