Hagicraft Shooter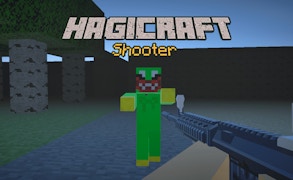 Hagicraft Shooter
Description
In Hagicraft Shooter, you're plunged into a chaotic cube world overrun with monsters. It's a thrilling pixelated shooting game, reminiscent of the beloved Minecraft aesthetic. As a soldier, it's your duty to eliminate these threats. But remember, luck is on your side! Lucky boxes drop rewarding bonuses and money to strengthen your stand against the horde of monsters. The goal? Leave no monster standing.
How to play
The game employs intuitive controls: use "WASD + Shift" keys for character movement and the "M" key to access the market for necessary upgrades and supplies. Remember, every monster requires 5 bullets to kill - strategize your shots and conserve ammunition.
Tips and Tricks
Keep an eye out for lucky boxes - their rewards are invaluable in fortifying your defense. Prioritize allocating funds from these rewards towards buying additional bullets in order to increase survivability. Killing monsters is important but surviving the onslaught is paramount.
Features
Engaging pixelated graphics, giving a unique retro feel.
An intuitive economy system, allowing players to strengthen their capabilities.
A plethora of monsters, challenging your strategy and shooting skills.
An adrenaline-pumping blend of role-playing and shooting gameplay.
What are the best online games?