GunGame shooting warfare blocky gangster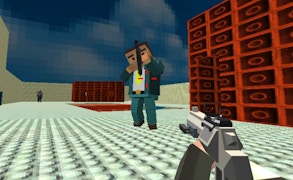 GunGame shooting warfare blocky gangster
Unleashing your inner gangster has never felt so pixelated as with GunGame shooting warfare: blocky gangster. This game is an unmissable amalgamation of gun games, pixel games, battle games, and survival games that masterfully blends together to form an unforgettable feast for the senses.
Navigating through the mean streets of a pixelated city, you'll find yourself immersed in the world of blocky gangsters and gritty warfare. The developers have managed to create a visual spectacle with its unique pixel-style aesthetics, giving GunGame Shooting Warfare a standout place in the arena of gangster games.
The adrenaline-fueled gameplay takes you on a rollercoaster ride from the word go. Predicated on survival instincts, it pushes you into fraught battles and dangerous missions that could mark the difference between life and death - making this game an exceptional addition to the ever-growing canon of survival games.
The haptic feedback while wielding various firearms feels astonishingly real, ranking it high amongst other gun games. Every shot fired from your pixelated piece is palpable, each bullet-trail rendered beautifully in dazzling detail. An impressive arsenal is at your disposal to take down your enemies and establish dominance in this vibrant world of blocky gangsters.
In conclusion, GunGame shooting warfare: blocky gangster stands as a vibrant homage to classic pixel games while simultaneously pushing boundaries for what's possible within the realm of modern-day mobile gaming. Whether you're a fan of battle games or just love letting bullets fly in fast-paced gun games, this title proudly deserves its place on your download list.
What are the best online games?