Gun Guys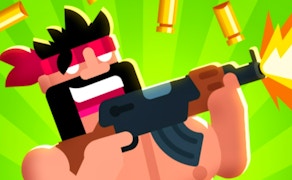 Gun Guys
Immerse yourself in the exhilarating world of Gun Guys, a standout performer in the genre of Shooting Games. With its compelling gunplay and cunning puzzles, this game stands tall amongst other gun games, grabbing the attention of sharpshooters and strategy enthusiasts alike.
The game invites you into an adrenaline-fueled battlefield teeming with relentless bad guys. The beauty of Gun Guys lies in not merely blazing your way through enemies but using your wit and strategic prowess to outsmart them. This amalgamation of shoot-outs and brain teasers fortifies Gun Guys position as one of the best battle games currently on the market.
The single bullet mechanic is a thrilling aspect that truly tests your skills, encouraging precision, patience, and timing. This design choice adds an intriguing twist to the usual shooter formula, making it one of the noteworthy skill games. The promise of unlocking new dangerous missions as rewards for such precise shooting keeps players coming back for more.
What sets Gun Guys apart from other run-of-the-mill sniper games is its emphasis on logic. Every level challenges you to harness your surroundings and use different weapons to outwit and overpower your enemies, making it a perfect fit for fans of strategic sniper games.
The difficulty level scales beautifully, transforming from relatively simple tasks to intricate brainteasers as you progress further into the game. The promise of 'Tons of new challenges coming soon' is a nod towards continuous updates that will keep this game fresh and exciting.
In conclusion, Gun Guys is a seamless blend of exhilarating shooting mechanics and captivating puzzles that caters perfectly to those who relish intense battles interspersed with challenging puzzles. It's an exceptional addition to your gaming library if you're on the prowl for remarkable gun games or innovative sniper games.
What are the best online games?