Gun Fest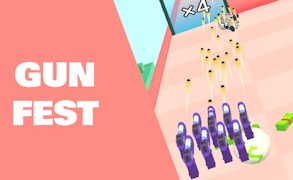 Gun Fest
Description
In Gun Fest, you will engage in an adrenaline-pumping journey as a skilled stickman armed with striking firepower. Race against time through treacherous terrains, dodging enemy fire and obstacles while launching perfectly timed attacks against your adversaries. The game is designed for those who love fast-paced action games where survival depends on agility, precision, and quick decision-making.
How to Play
Controlling the stickman in Gun Fest is simple: use the arrow keys to move and the spacebar to jump or dodge obstacles. Make use of your mouse to aim and fire. The goal is to outrun your enemies while laying them low with well-placed shots. As you progress, you'll face increasingly challenging levels packed with enemies and hindrances.
Tips and Tricks
To excel in Gun Fest, keep a keen eye on your surroundings—anticipate enemy attacks and dodge them swiftly. Make judicious use of available power-ups for extended firepower and health restoration. Jumping frequently can also help avoid shots from rivals.
Features
The game boasts of several exciting features:
An immersive stickman character armed with various weapons.
Fast-paced running gameplay requiring sharp reflexes and precision shooting.
A plethora of challenging levels teeming with diverse enemies.
Captivating graphics that enhance the gaming experience.
A slew of power-ups that aid in overcoming obstacles and defeating adversaries.
What are the best online games?