Gullo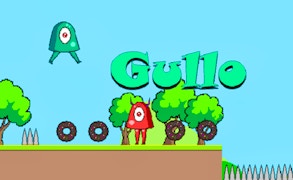 Gullo
Description
In Gullo, you steer an adorable pixelated character through a series of challenging levels. This 2D platformer with increasing difficulty requires sharp reflexes as you collect deliciously tempting chocolate donuts, while evading enemy creatures and dangerous obstacles like ground saws and spikes. The goal is to reach the red flag that signals the end of each level, giving this game a sense of delightful nostalgia.
How to play
Your character's movements are controlled via the "WASD" or "Arrow" keys. The 'W' or 'Up' arrow can be pressed twice for a crucial double jump. Outwitting enemies, avoiding deadly traps and collecting all the chocolate donuts are your tasks to reach the red flag that signposts the completion of each level. Each stage progressively offers more complex challenges.
Tips and Tricks
Be cautious while making your way through the game. Don't rush to get all the donuts at once - remember it's about surviving! Timing is of utmost importance when it comes to avoiding monsters and traps. Use your double jump sparingly but strategically, it can sometimes be your best bet in dodging obstacles.
Features
A exciting 8-level 2D platformer game with gripping gameplay.
Friendly and engaging pixel graphics make for appealing visuals.
Diverse enemy types and traps ensure varied challenges at every stage.
The double jump feature enhances character mobility and adds to gameplay depth.
What are the best online games?