Goldie Princess Skin Doctor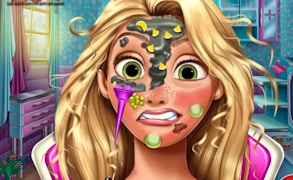 Goldie Princess Skin Doctor
Welcome to the marvellous world of Goldie Princess Skin Doctor, an engaging venture into the realm of games for girls. This exciting game revolves around a delightful storyline involving your favorite Goldie princess, who unfortunately suffers an allergic reaction and desperately needs a doctor. It's not just another routine princess game, but an intriguing addition in the directory of operation games.
Stepping into the shoes of a doctor is never dull with Goldie Princess Skin Doctor. The game features an impressive array of fun and awesome tools, from high-voltage machines to lasers, each promising to hook the players with their unique functionalities. Yes, it's not just about makeup games revolved around dress-ups and accessories: this time, you are entrusted with a mission—to bring back the flawless skin of our beloved princess.
The charm lies not just in its diversity but also in its educational aspect. As you work through levels, you learn how to use these intriguing tools. This makes Goldie Princess Skin Doctor more than just another addition in the genre of making up games—it provides players with a chance to grasp valuable knowledge about different medical instruments while enjoying their time immensely.
In conclusion, Goldie Princess Skin Doctor is much more than it initially seems: it's an adventure-filled journey that excellently blends entertainment and education. It stands out among other princess games, offering not just fun and excitement, but also an opportunity to learn something new. So all young gaming enthusiasts out there—it's time to don your doctor's coat and start your exciting journey towards restoring the princess's flawless skin!
What are the best online games?