Goldie Emo Makeup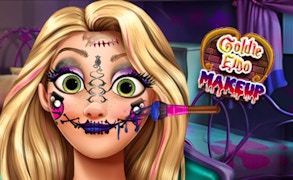 Goldie Emo Makeup
Take a magical leap into the captivating world of Goldie Emo Makeup, a digital playground that splendidly amalgamates princess games, makeup games, and a dash of fun surprises that border on mild scary games. This addictive entry into the pantheon of inventive games for girls will leave you beguiled with its originality and creativity.
Our beloved heroine, Goldie, is known for her daring sartorial choices and enigmatic persona. This time, she is all set to explore the edgy realm of emo style makeup, morphing into an alluring blend of pixie gracefulness and rockstar attitude! Goldie needs your artistry to achieve her desired look. Are you up for the thrilling task?
The game kick-starts with the core of any fabulous makeup - flawless skin. The player is given an array of interesting options to scrub and polish Goldie's face until it shines with radiant health. But hold on to your seats because this is just the beginning! Move onto mapping out different shapes of contouring on Goldie's visage until her cheekbones could cut glass!
Eyes are windows to the soul, they say, and in Goldie Emo Makeup, they won't lie. Choose from a broad spectrum of faux lashes that range from coyly flirtatious to dramatically bold. Pair these with an explosion of colorful eye makeup options that let you paint Goldie's lids with your wildest imagination.
The last feather in this thrilling cap of emo transformation is sure to excite lovers of scary games. Yes, we're talking about those wonderfully eerie face paintings that will complete Goldie's gothic chic look. Mix and match until your gamer heart is content.
In conclusion, Goldie Emo Makeup perfectly encapsulates the creative spirit inherent in princess games while pushing the boundaries expected from traditional games for girls. It's not just a gateway into interactive makeup tutorials; it's a wholesome ride that combines scary games' thrill within an unexpectedly adorable package!
What are the best online games?