Gold Miner Tom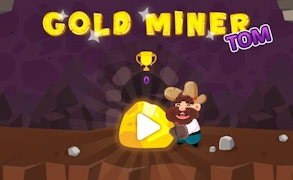 Gold Miner Tom
Set your sights on an exhilarating virtual expedition with the fascinating Action game, Gold Miner Tom. A true gem among Mining games, it offers players an immersive journey into the heart of a gold rush - all from the comfort of their own homes.
Our protagonist, Tom, doesn't just carelessly chip away at rocks. No, Tom is a master strategist. He employs a unique claw, adding an intriguing layer of depth to the standard mining game mechanics. This isn't just about mere treasure hunting; it's also one among the most captivating Skill Games. Mastering the claw requires understanding its rhythm and timing, making each successful gold or diamond extraction a feat to be celebrated.
The game shines brightest in its pursuit for treasure. In this world, anything goes: gold nuggets, precious diamonds or mystical treasures- all up for grabs. Earning as much money as you can becomes not just a goal, but an obsessions in this engaging game play experience.
To further captivate players, Gold Miner Tom effortlessly transforms into one of the most addictive Clicker games. Each click takes you closer to unimaginable wealth and reveals another layer of this intricately designed virtual world. The thrill of uncovering hidden valuables with every dig is an adrenaline rush that keeps players hooked for hours on end.
The rush of unearthing priceless treasures and strategically managing your earnings catapults Gold Miner Tom beyond a simple action game. Its seamless blend of skillful tactics and relentless treasure hunt undoubtedly sets it apart in a sea of other mining games.
In conclusion, dare to dive into this challenging skill game, test your proficiency with the claw and unearth hidden riches with each click as you fully immerse yourself in Gold Miner Tom's enthralling world.
What are the best online games?