Gold Miner Jack 2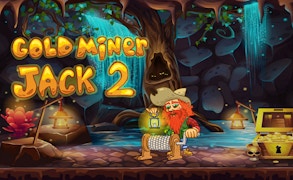 Gold Miner Jack 2
Engage in an exhilarating, fast-paced treasure hunt with Gold Miner Jack 2, a top-notch addition to the world of mining games. This game brings an intricate blend of Action, Skill Games, and the increasingly popular genre, Clicker Games.
The name is simple, and so is the concept. You're a miner, but not just any ordinary miner. You're Jack - an intrepid adventurer on a quest to unearth gold and diamonds in an immersive 2D environment. Decked out with your trusty pickaxe, Gold Miner Jack 2 offers gamers an adrenaline-pumping experience that blends traditional action gameplay with plenty of strategic opportunities.
Each game level brings its unique challenges. Keeping gamers on their toes as they navigate their way through unforgiving terrains and unexpected roadblocks. Master the art of clicking at the right moment, skillfully avoiding pesky rats and rocks that impede your digging progress.
As you amass your piles of gold and diamonds, you can enjoy the fruits of your labor - quite literally! Swap your hard-earned treasures for essentials at the nearby grocery store within the game. Whether you need a power-up to boost Jack's energy or tools to dig deeper and faster, strategy is key to maximize your gains from every play.
In conclusion, if you're looking for a high-octane gaming experience that tests your reflexes and strategic acumen, then Gold Miner Jack 2 is just the right pick! Offering layers upon layers of thrilling gameplay combined with charming graphics; it certainly is a gem among mining games.
Dust off your virtual pickaxes gamers! Get ready to immerse yourself in this rewarding world of mine exploration. Remember - in Gold Miner Jack 2 - fortune favors the brave!
What are the best online games?