Gold Miner Game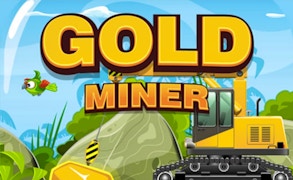 Gold Miner Game
Immerse yourself into the world of virtual prospecting with the Gold Miner Game, a distinctly engaging entry in the realm of mining games. If you've got an affinity for clicker games & skill games, Gold Miner is sure to keep you hooked for hours on end, given its interactive nature and absorbing gameplay.
This action-packed gem of a game caters especially to the budding gamers, doubling as a kids puzzle game that challenges their critical thinking, while keeping their fun meter maxed out. The ultimate objective? It's simple but captivating - collect all nuggets and jewels scattered across various levels while evading explosive barrels filled with gunpowder.
Gaming veterans might recognize this as a nod to classical mining adventures, but with a fresh twist. Gold Miner shines brightest in its balancing act – it's easy enough for kids to enjoy, yet hard enough to master to keep seasoned players engaged. Each level in this dynamic clicker game is more challenging than the previous one, demanding swift reflexes and enhancing hand-eye coordination.
The payout? A sense of accomplishment as you see your virtual fortune grow with each nugget and jewel collected. But beware - the perilous barrels of gunpowder add an extra layer of exhilaration, ensuring the excitement never fizzles out.
In conclusion, Gold Miner Game is not just another addition to mining games or skill games - it's an electrifying mix that'll keep your fingers hovering over your device and your eyes locked on the screen. Whether you're in search of a fun-filled distraction or a testing clicker game that pushes your boundaries, this gold mining adventure is worth digging into!
What are the best online games?